8 out of 10 brides try to lose weight before their wedding day. But sometimes things don't work out and you are compelled to look for alternatives. If you facing a similar situation, then a belly fat wedding dress to hide belly and arms would be the best solution.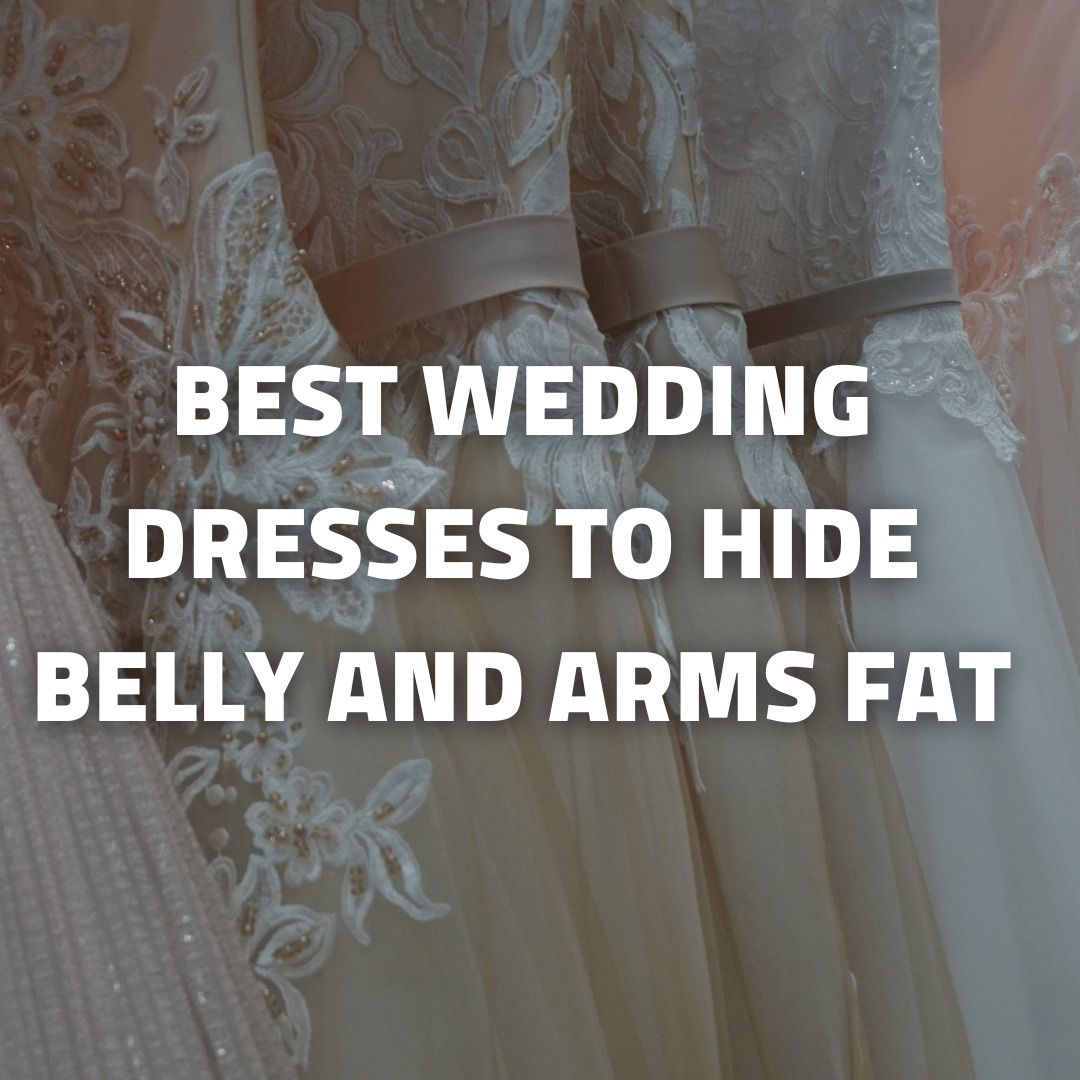 Wedding Dress To Hide Belly And Arms 
Here are some wedding dresses that are perfect for hiding belly and arms fat:
This off-shoulder white wedding dress can perfectly disguise the belly fat that you are so worried about. The beautiful lacy design is what makes this dress more appealing.
This dress is not only gorgeous to look at but also comfortable to wear. It comes with a built-in bra so you don't need to wear an additional undergarment. It has lace and appliques all over the dress. It is available in different sizes to provide a perfect fit.
2. Kiyonna Women's Plus Size Belle Midi Lace Dress
dress to specifically hide your arms fat, then this could be the one for you. It is designed to keep the wearer's comfort in mind. This wedding dress will not only make you look good but also hide the unwanted areas that you want no one to see. It is perfect for a casual wedding, bridal shower, or wedding rehearsal.
It features a beautiful A-line skirt with an empire waistline and surplice neckline. Luckily, it has different sizes available, so finding the perfect fit shouldn't be a problem. Kiyonna wedding dress is designed for the modern woman with curves. There's lacework all over the dress including the sleeves. The surplice neckline is the main attraction of the dress. Once you wear this dress, it will automatically shift the attention from your mid-section to the upper region of your body.
How can I look thinner in my wedding dress?
It's completely fine if you want to look thinner in your wedding dress. After all, it's your big day and you have all the rights to look the best. We have got some easy hacks that might be helpful to you.
Use corsets
Corsets have always been a popular feature of wedding dresses. It helps you to make your waistline look thinner and in shape. Brides with tummies can easily use a corset to hide their belly fat. It will not only make your look more beautiful but also boost your confidence.
Corsets have undergone major changes in the past decades. Modern corsets are more comfortable and easy to wear. Besides making your waistline thinner, it provides the right amount of support to your busts. However, you need to make sure to get the right material and size. If in doubt, you can take the help of a professional.
Use a belt
Belts are great for shaping your midsection. Wearing the right belt with your wedding dress can make you look a lot slimmer than you are. The best thing about a belt is that it can be customized to match your wedding dress. You can make it look like a part of your dress without putting much effort.
Belts are not only fashionable, but they are very effective in hiding belly fat. It can also add style and glamour to a simple wedding dress. With the right belt style, you can slim down your waist and look stunning on your big day.
Focus on the design details and embellishments
Large patterns on wedding dresses don't always look good, especially if you want to look slim. It might make the dress look voluminous which in turn will make you look fatter. This is why you should avoid large patterns near the areas where you want to hide.
If you are trying to conceal your waistline, you should get a dress that has catchy details on the hips or shoulder. This way you can take off the attention from your midsection. The most effective design embellishments are the ones that are positioned vertically or diagonally.
Even the flow and pattern of the lace matter. The patterns that seem to transition diagonally or vertically will help you to create an hourglass figure.
Mother Of The Bride Dresses That Hide Belly Fat
This elegant V-neck dress from Ever-Pretty is perfect for weddings and other special occasions. It is made of pure polyester and features long sleeves with a deep v-neckline and leg slit. 
This long party gown will enhance your curves and disguise the areas that you are not so proud of. It runs a size smaller, so make sure to get a size bigger. It has a comfortable lining on the inside. However, it doesn't have a built-in bra. Besides wedding parties, you can wear this beautiful, sparkly dress to any evening outing. It is ideal for all casual or semi-formal occasions.
2. Daisyaner Women's Formal Floral Lace Maxi Dress 
The first thing you will notice about this dress is the floral lace neckline. It shifts the attention from your midsection to your neck and shoulder just the way you want it. The upper part is made of 94% nylon and 6% spandex, while the lower part is made of 100% polyester lining. This dress is designed keeping the comfort factor in mind. It is both soft and breathable, so you can wear it for long hours events without feeling sweaty. 
The excellent cutting, half-sleeves, and v-neckline are what make this dress prettier. Given the style and design, it makes a perfect choice for wedding parties, formal events, or evening outings. The material is such that it can be worn in spring, autumn, winter, and summer.
3. H.S.D Womens Lace Mother of The Bride Dress Formal Gowns with Jacket
If you are insecure about your arm fat, this chiffon dress with a jacket could be the best choice for you. It comes with a sheer lace jacket that is perfect for hiding arms fat that you are not so confident about. The main focus of this dress lies in the upper region. It features stunning lace work on the front.
From weddings to cocktail parties and clubs to ballrooms, you can wear this dress to all types of occasions. To get the best fit, you should order a size bigger.
4. Ever-Pretty Women's Plus Size Round Neck Sequin A-Line Tulle Evening Party Dress 
This is another great dress for plus-size women. It is made of 100% polyester and has a zip enclosure. It is an elegant-looking dress with delicate embroidery designs on the upper part. It has flared sleeves and an empire-cut waistline that is best for hiding belly fat.
The inside is fully lined for comfort. The only problem is that it doesn't have a built-in bra. Wearing this floor-length dress will enhance your feminine curves and make you look gorgeous. It is perfect for wedding parties, prom parties, evening parties, and other special occasions.
5. LALAGEN Women's Short Sleeve Rhinestone Plus Size Evening Dress
This elegant white dress is made of 95% polyester and 5% spandex. It features a nice sparkling design with a rhinestone bodice on the front and short sleeves. 
It is designed in such a way that it highlights your body curves while focusing attention on the upper part. It is true to size and has medium elasticity. Due to the snow-white color of the dress, it makes a perfect choice for weddings.
6. Alex Evenings Women's Long Cap Sleeve A-line Rosette Dress
It's fine if you are not confident about your body. With this long A-line rosette dress, you can easily hide your belly fat without much effort. The foil detail in the fabric features a flattering silhouette. 
The unique thing about this dress is that it highlights the smallest part of your waist and skims perfectly over the lower half of your body. This dress is not only figure-flattering but also comfortable to wear. Also, it is bra-friendly and has cap sleeves.
7. Mother of The Bride Dresses Formal Evening Gown
If you are looking for a beautiful dress to hide your belly bulge, you should consider getting this chiffon-made, full-length gown. It features a beautiful v-neckline with flared bottom.
The main attraction of the dress is the front and the back part. The detailed embroidery work enhances the beauty of the dress and makes it look more elegant. Not just for weddings, but you can flaunt this stunning dress on special occasions. It is made of high-quality, comfortable material. The dress feels soft and lightweight.
Conclusion
Trying to look the best at your wedding is fine. But you don't always have to lose weight or disguise yourself to feel confident. However, if you are still not convinced and wish to hide your belly and arm fat, you can choose from the dresses mentioned in this post. You can also follow the tips to make yourself look thinner.